2010 The Memory of Water
Posted on August 17, 2011 | in Plays | by mark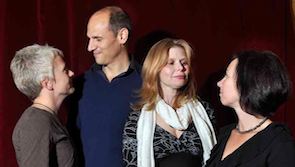 Shelagh Stephenson's 1996 play The Memory of Water explores the fractured relationships between three sisters on the eve of their mother's funeral.
David Wilson's production with the Bovey Tracey Players gave the good-sized audience plenty to enjoy with moments of both excellent comedy and plausible and affecting pathos.
Jenny Connelly played Mary the eldest of the three sisters with an air of weary sadness and it is to her credit that the scenes shared with both her lover, performed with admirable confidence by Mark Dunn and the ghost of her late mother, played with an affecting melancholic tone by Liz Parr, gave an altogether different, more vulnerable side to the character that was hidden in the scenes with her sisters.
The two younger sisters were performed by Su Kaye as Theresa and Lisa Huet as Catherine both of whom gave contrasting but equally impressive interpretations of these pivotal characters, the latter giving the play some vital energy and comic relief.
The production had many highlights including a wonderful scene between Teresa and her husband Frank, who was played with clarity and perfectly judged restraint by Mark Godwin, but was never more moving than in its final moments as Mary, unable to escape the persistent, eroding effects of her own memories, prepares to face the remainder of her life alone.
This was an excellent play very well performed by its cast; a brave choice perhaps for a local drama group but one that was amply rewarded.
I look forward to 2011 and another successful season by the Bovey Tracey Players, beginning with its traditional pantomime 'Dick Whittington' directed by Juliet Harper.