Humble Boy Reading
Posted on May 8, 2018 | in Plays | by Pamela Meadows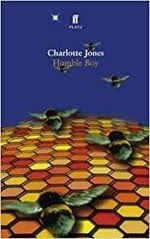 Our next production is to be Humble Boy by Charlotte Jones which we are delighted to say will be directed by Louisa Wilde, Artistic Director of Tree Shadow Theatre Productions.
Set in an English country garden, this gentle comedy features the melancholic Felix Humble, an ill-adjusted theoretical physicist, struggling to come to terms with the recent death of his father and his mother's impending remarriage to a local buffoon. Inspired by Hamlet and drawing upon Tom Stoppard and Alan Ayckbourne, this award-winning play has a cast of six, three men and three women:
Felix Humble – A mid-30s theoretical astrophysicist from Cambridge. He is our main character and most noticeable is his stutter caused by his nervousness.
Flora Humble – Beautiful and self-centered, Flora is the mother of Felix and her need for absolute power attributes to problems in relationships with the people around her.
George Pye – Confident, well-built, modern, and big band music savvy. George is the complete opposite of James Humble, the deceased father of Felix. He plans to marry Flora.
Rosie Pye – Daughter of George and former girlfriend of Felix. She is a nurse and also has a 7-year-old daughter that she believes to be Felix's.
Jim – The gardener of the estate, he is an old man in his 60s. He is virtually ignored by everyone in the play until the end. He is the only source in which Felix can truly confide.
Mercy Lott – Friend (although seemingly a slave) of Flora, she is kind but doesn't seem to be all there. She has a secret crush on George Pye.
The first read-through will be held at 7.30pm on Wednesday May 9th at the Church Rooms, St Peter & St Paul Church, Bovey Tracey and the play will be performed on 18th to 20th October 2018. As well as the six roles, we are looking for anyone who is happy to help with props, prompting, set building and costumes.