2011 Fahrenheit & Celsius
Posted on November 10, 2011 | in Plays | by mark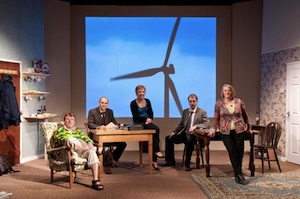 The recent play performed by the Bovey Tracey Players,"Fahrenheit and Celsius" by James Gillingham, is very topical and also has a local connection. The author grew up locally and is also the son of Ann, chairman of the Players and Nigel who has directed the production.
No doubt the issues and frictions encountered by local people when wind turbines are to be erected in their countryside will be experienced in many locations in the future.
The play's five characters are strongly portrayed. Yvette, the fading TV presenter is played with flair and great style by Kirstyn Munro. Jerome, portrayed by David Scott, who is totally opposed to the "white monstrosities" gives a strong and commanding performance, and his relationship with his daughter, Laura, shows paternal concern and uncertainty. Laura, played with great sensitivity by Jenny Connelly, has formed a relationship with David, played with confused exasperation by Mark Dunn. The comedy content is expertly delivered by Alex, portrayed by David Cartwright, whose attempts to help his friend David don't always go to plan.
Overall this was an entertaining and interesting production with excellent special effects by stage, sound and lighting crews. Congratulations to all concerned.
Photos courtesy of Bim Photography